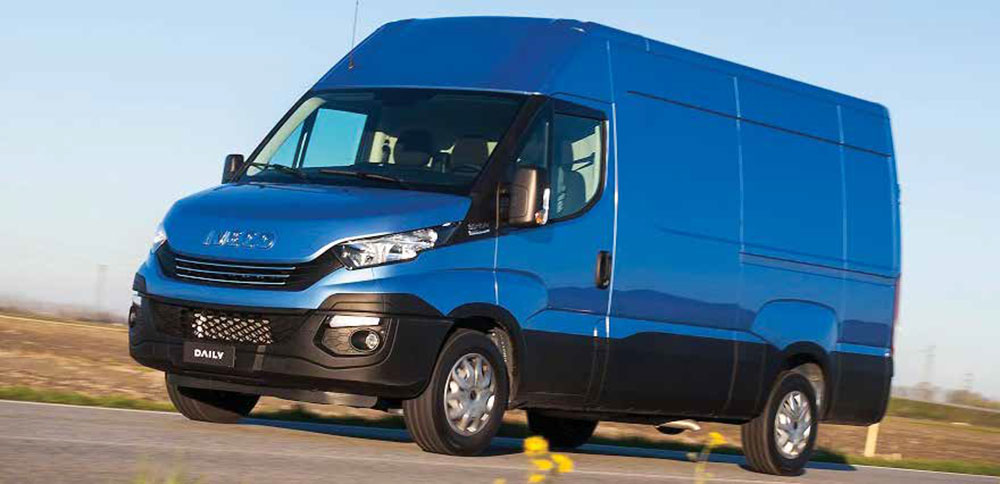 Remember Iveco Dailys from years ago? Noisy, cramped but tough enough to take the daily grind of van life. Few drivers would have queued for them back then, but Iveco has spent years developing the product and now it is undoubtedly one of the best heavy vans on the market.
It's just two years since we first clapped eyes on the New Daily and nobody could accuse Iveco of standing still in that time. The company has been hard at work refining the model in preparation for Euro-6. And that's not all.
It might look the same except for a few subtle external changes to distinguish different models but underneath, there's a raft of revisions to make Daily cheaper to own and run and better for drivers. It's due at a showroom near you anytime now.
The result is lower fuel consumption; up to eight per cent less compared with Euro-5 models. Iveco reckons the new Daily will cost up to 12% less in repair and maintenance too, partly due to new longer-lasting brake pads.
Less noise
Iveco reckons cab noise levels have been cut by 4dB. Then there's the Daily 'Business Up' connectivity package, but more on that later.
The Euro-6 engine range has revised power ratings as well as cleaner emissions. The 2.3-litre F1A engine offers 120hp, 140hp and 160hp, while the 3.0-litre F1C engine gets 150hp, 180hp and 210hp. There are natural gas and electric versions too, even though UK take-up has not been enthusiastic.
Iveco says the 2.3-litre Euro-6 engine weighs six per cent less.
Internal friction has been reduced, while the cooling and fuel injection systems have been re-worked for Euro-6. The engine gains a variable displacement oil pump too. The result is an 8% claimed fuel saving. This engine is available with exhaust gas recirculation (EGR) to control emissions for operators on low mileage work.
AdBlue for bigger engine
The 3.0-litre engines get SCR, so will need AdBlue from the start. Even though some 2.3-litre engines can do without AdBlue initially, from 2017, when the next stage of Euro-6 is introduced, AdBlue will be needed for all Daily models as they will all use SCR. Iveco says it will be ready to meet the 2020 Real Driving Emissions limits three years before they come into force.
Service intervals have been extended up to 50,000km/24 months when using synthetic oils, while Iveco says that SMR costs can be reduced by 10 per cent more by choosing automatic transmission.
The Hi-Matic eight-speed ZF automatic gearbox is now available with all 2.3-litre and 3.0-litre engines, except the 3.0-litre 150hp unit. The wide range of body options remains from the Euro-5 model, with the same choice of body lengths and wheelbases. The same range of gross weights is available too ranging from 3.3-tonnes GVW to 7.2-tonnes GVW. Iveco is introducing a new 5,100mm wheelbase option for the 7.0-tonne GVW model, designed to maximise the body length for chassis-cab variants and offer more adaptation opportunities for body builders.
The Daily Business Up App makes a range of telematics information available using the driver's smartphone or tablet computer. Drivers can view a real-time assessment of their driving style, monitoring acceleration and braking. For manual models, gear selection is also monitored. The app can display extra information not shown on the vehicle dashboard. Business Up also includes an interactive User Handbook with links to pages and a dealer locator.
Techno goodies
Other functions include radio, music, and a phone manager to manage calls and messages. Iveco has partnered with Sygic to deliver a fleet management package offering tracking, navigation and routing and scheduling with job dispatch.
The driver can take customer signatures on smart phone or tablet for deliveries. All data can be downloaded. Servicing can also be covered by Business Up, helping to keep track of maintenance.
In the cab, there's a new leather covered steering wheel, blue seat covers and textile foam headrests. Up to 18 storage compartments are now included. On the dashboard an adjustable cradle for smart phones or tablets is available, which doubles as a clipboard.
Daily is much quieter on the road. Even at tickover, it was notably quieter. The cab was completely re-designed in 2014, with better instruments and control layout. Build quality looks better with higher quality materials too. With up to 18 compartments, storage is well thought out with places for large and small items. There is space under the seats to store larger items – a real bonus for chassis-cabs where storage space is traditionally tight.
Automatic delight
We sampled a 2.3-litre 140hp version on the launch with Hi-Matic transmission – a real benefit for drivers on stop/start deliveries. A brief chat with an Iveco dealer revealed that his take-up for the option overall is around 30%, and well over 50% for key account customers.
Our route included twisting mountain roads and the ZF 'box always picked the right gear even on steep climbs with hairpin bends. Gear shifts are smooth and seemingly effortless. Iveco reckons that SMR costs could be up to 10 per cent less with the Hi-Matic 'box, so reduced wear and tear should offset the additional cost. Modern automatics don't bring a big fuel consumption penalty either.
The Daily Business Up app is a very well-thought-out piece of kit. The driver feedback was good and easy to understand and showed how to improve your driving score.
The Daily now offers a lot and the latest model is certainly the best yet. With up to 7.2-tonnes GVW and a wide variety of body options, it has no other full-range competitor in the heavy van sector. Even if it did, Daily's ongoing development programme means it would still give any other rival a hard time.