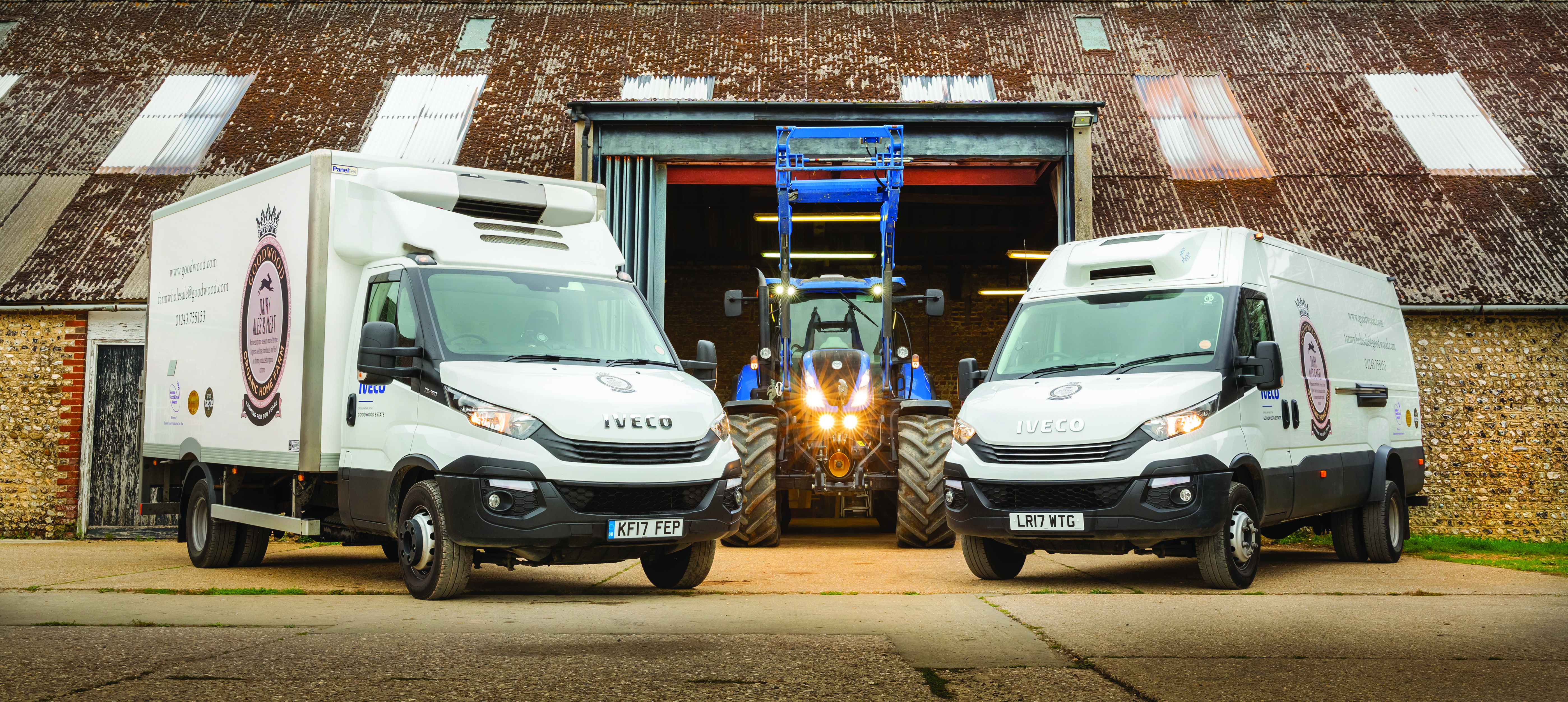 To many Goodwood House is son ominous with with the fantastic celebration of motor sport namely Goodwood festival of speed or the Goodwood revival, set in 12000 acres the beautiful English countryside of the South Downs Goodwood House is the home of the Duke and Duchess of Richmond. Although an important part of the Goodwood estate, the other part of this quintessentially English success story is Goodwood Home Farm, the largest organic farm in the country as well as the first 100% organically fed dairies.
Goodwood Home Farm occupies 3500 acres of the estate and was originally set up to supply the events with meat, milk and cheese, and with over 1 million visitors a year makes perfect sense, to be as self-sustainable as possible. The Farm rears 200 Shorthorn dairy cows, 50 suckler cows, 45 Old spot and saddle back pigs as well as a flock of 1400 Suffolk and North Country mule breeding Ewes. The estate also produces its own beers as well, in fact 1 ale and 2 types of lager with all the necessary ingredients grown on the Farm. There's also 185 acres of spring barley, 173 acres of spring oats and around 150 acres of both forage rye and whole crops. All managed by 9 farmers and a total of 24 staff.
As well as event catering, there are also three restaurants on site, The Kennel, Goodwood Bar and Grill and Farmer, Butcher Chef – the latter of which prides itself on the fact that its customers will have travelled further than their food.
With such a special farming process as well as a whole host of events taking place all the year round it became very apparent that improved efficiency needed to be driven into husbandry of
the operation and importantly into the logistics of the estate. As the success and popularity of the organic farmed produce increased the original concept of supplying 'just the estate' changed rapidly as requests and orders started to come from high class restaurants and hotels in London, which in turn meant a total review of the distribution process.
To support this new and smarter way of logistics and distribution as well as improving the farming process with better agricultural equipment Goodwood entered into a partnership arrangement with CNH Group (Case New Holland of which Iveco forms part of the Industrial brand) Iveco, Case and New Holland to provide new equipment to the farm. New tractors, loaders, excavators and even vans were brought in to improve productivity and also provide a showcase for the entire Iveco and CNH range to show prospective customers how the products can work together. From T5, T6 and T7 tractors from New Holland work alongside a 69S ST backhoe loader, 721G XR wheel loader and 321F ZB HTS compact wheel loader with a plethora of attachments and add-ons to improve the processes. LM7.42 telescopic handlers, balers in two sizes, and a CX6090 combine harvester.
Producing top quality organic food and drink is all very well but what about getting it to market, bearing in mind that Goodwood Home Farm produces 12,000 litres of milk per week as well as nearly 4 tonnes of meat which all needs to moved either within the estate or outside and into wholesale or restaurants.
Within the partnership arrangement Iveco supplied three Daily's Two refrigerated panel vans, a 3.5-tonner and 7-tonner, work alongside a bodied 7.2-tonne chassis cab with a refrigerated box body. Together they help disturb the farm's produce not only across the estate, but to a select group of customers in the South
East including some of London's finest and most famous restaurants.
The 3.5-tonne van is primary used for local deliveries and drops around the estate. It's routine sees it travelling only as far as Brighton largely delivering the meat that has been raised and butchered on the estate. The second 7-tonne panel van carries out a similar job but to customers in London that include the prestigious RAC members club and world famous The Ritz hotel. The larger 7.2-tonne truck performs a variety of roles that include transporting meat to local butchers and milk deliveries. While the appearance of the new fleet might not differ too dramatically to the old fleet to an outsider, the increased gross vehicle weights plays a huge role. Now with two vehicles with a payload of more than three tonnes, there's increased flexibility in the fleet and much higher payloads.
The rest of the farm has also benefitted greatly from the updated Case and New Holland equipment with increased automation helping them to now carry out a number of important jobs previously done by contractors.
The three new loaders have allowed the farm to bail their own straw and silage and are now in control of when they make food for the livestock, as they were previously relying on contractors.
Also using the latest agricultural equipment has made life far easier, its not unusual for a tractor to work a 12 hour day and the driver finishing his shift not feeling tired, as a way of further reducing the workload whilst improving efficiency GPS feature very heavily on the equipment and will effectively take over much of the drivers workload when planning a harvest.
The partnership with Iveco and Goodwood has already clearly worked from the arrangement, meanwhile CNH is getting valuable feedback from the real-world operation of its farming
equipment, Daily vans and construction vehicles. The benefit to Iveco, and Case New Holland is they can show case their entire product range that all fits under the CNH umbrella as well as using the Goodwood back drop to host customer event