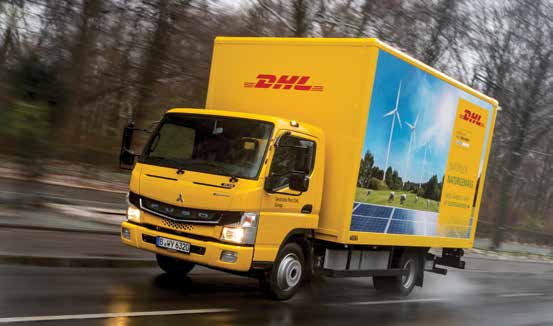 The new all-electric light duty model is now on test with several big fleets in Germany.
Daimler Trucks has handed over the first units of its all-electric FUSO eCanter to European customers. The logistics companies DHL, DB Schenker, Rhenus and Dachser, will now use the lightduty truck on their fleets.
FUSO eCanter
FUSO has already strengthened its commitment to alternative drivetrains. Over the next few years all truck and bus models will offer one additional electric variant.
Marc Llistosella, head of Daimler Trucks Asia, which owns FUSO, explains: "With the FUSO eCanter we are delivering the first all-electric truck in series production to our customers in Europe. Over 90,000 kilometers of testing in everyday operating conditions secure that we hand over a reliable and economical vehicle to our customers. With the FUSO eCanter our customers now operate not only quietly and without locally-emitted CO2, they also save money on operating costs. This is the future of urban distribution transport."
Various areas of operation
The customers are all in the logistics business, but the trucks' areas of operation are divers. All customers are putting the vehicles to work that is usually carried out with conventional drive trains. The customer's decision for the FUSO eCanter was influenced by factors such as noise and emission reduction, fleet-sustainability but also by economical reasons. The drivers of the FUSO eCanter will be schooled to operate the vehicle. The customers obtain their vehicles via a 24-month long-term rental from CharterWay, Daimler's own rental and leasing expert in the commercial vehicle business.
Deutsche Post DHL will use its six vehicles in two important business divisions: two vehicles will do inner city delivery runs of business and private customers of DHL Freight's Berlin branch, for heavy individual cargo, such as electrical or large household appliances. DHL Paket will use four vehicles for the delivery of goods to businesses and corporate clients. For this the electric trucks will be fully-integrated in existing business processes and will replace the vehicles with conventional drive trains which were used so far.
DB Schenker chose the FUSO eCanter consciously. The new vehicles give DB Schenker an opportunity to test a series production electric vehicle for inner city logistics under real life production conditions. Among other tasks, one of the three trucks will deliver and collect general cargo in the inner city of Berlin. Rhenus Group, a globally-operating provider of logisitcs, will use the three FUSO eCanters within its home delivery unit. From the central warehouse in Hoppegarten, the all-electric trucks will deliver furniture, consumer electronics, home appliances and heavy sport equipment to the inner city of Berlin.
Two more FUSO eCanters will be driving for the transport company Dachser. Their job will be the general goods transportation core business on the last mile, meaning pallets with industrial goods either at micro-hubs or goods will be delivered directly to the customer, as well as collecting goods and delivering them to the Dachser-branches. This is where they recharge overnight at a high-voltage loading station on the branches' grounds.
Tech spec
Depending on body and field of application, the eCanter has a load-bearing capacity of up to 4.5 tonnes. The vehicle's electric power train contains six high-voltage lithium-ion batteries with each 420 V and 13.8 kWh. Instead of a diesel, an electric drive train with a strong permanent-magnet-engine delivers 129 kW (180 hp) via a single-gear transmission in the rear axle. 285Nm of continuous output allows the truck to accelerate almost like a passenger car.
The maximum speed of the eCanter is limited to 80 kilometers per hour. The batteries with a total weight of 600 kilograms allow a range of over 100 kilometres and so surpass in many cases the daily distance normally covered in light distribution transport.
A similar initiative will be launched in the UK in spring with many high profile operators. Watch this space – we'll be reporting in future issues