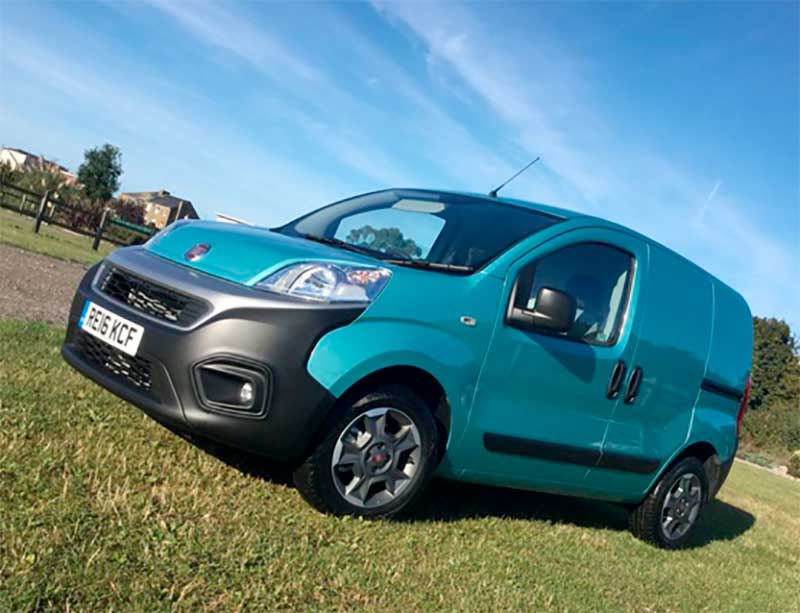 Upgrades to this plucky little city slicker make a winning combination. John Threadgold reports
Since their launch in 2008, the Fiat Fiorino, Citroen Nemo and Peugeot Bipper have all been clones of each other, albeit built by the Italian manufacturer.
But last year PSA Group announced that it was quietly dropping the little van from its range in the next couple of years and while Fiat has upgraded the Fiorino, Citroen and Peugeot will continue offering the old model. So what exactly does the Fiorino now offer that the others don't?
There's a smart new front end, better looking alloy wheels, a redesigned steering wheel and controls, new graphics on the instrument cluster, upgrades to the storage compartments and a new touchscreen infotainment system.
The 1.3-litre turbodiesel engine has been upgraded to Euro 6, which means a 14% improvement on fuel economy (up to 74.3mpg on the combined cycle) and CO2 emissions of 100g/km.
Our test van is the SX variant and weighs in at £13,015 ex-VAT, which compares favourably with the rival Ford Transit Courier, but sadly a lot of the things we admired turned out to be paid-for extras.
The 1.3-litre turbodiesel engine has been upgraded to Euro 6, which means a 14% improvement on fuel economy
The snazzy paint job, for example, adds £300, aircon is £500, the bulkhead which made the cab whisper quiet is £80, stop-start £200 and reversing sensors are £150. Even the USB charger in the centre console is a £25 option. In fact with all the extras added, the total price came to a hefty £15,930.
Extras aside, the Fiorino is incredibly well built and certainly has a premium quality feel to it, a quality which is shared by its bigger brother the Doblo Cargo incidentally.
Despite its diminutive size, the seats are big and comfortable and there's a lumbar adjustment knob on the driver's seat, which is unusual for a vehicle of this size and ensures a supportive driving position.
Lots of handy stuff
Storage space is somewhat at a premium but there's a large scooped out area on top of the dash which will hold a whole load of white van man's detritus – and there are even two coffee cup holders between the seats.
The infotainment system is a natty little touchscreen affair but again at £395 extra it's debatable whether it's worth paying extra for.
On the road, the Fiorino is a sheer delight to drive, with the gearchanges light and sure. Meanwhile handling is taut and crisp, which means that this little van is eminently "chuckable" on the bends. This, of course, may be seen as a minus point in the eyes of company managers!
However, if drivers to get too enthusiastic, there is always the now obligatory ESC traction control and ABS braking systems to help keep them safe.
The twin sliding side doors at the rear are a little overkill, we thought, and indeed one of them turned out to be a paid-for option.
About the only fault that we could find with this vehicle is that it made an annoying high pitched beep every time it was locked or unlocked. Is that really necessary?