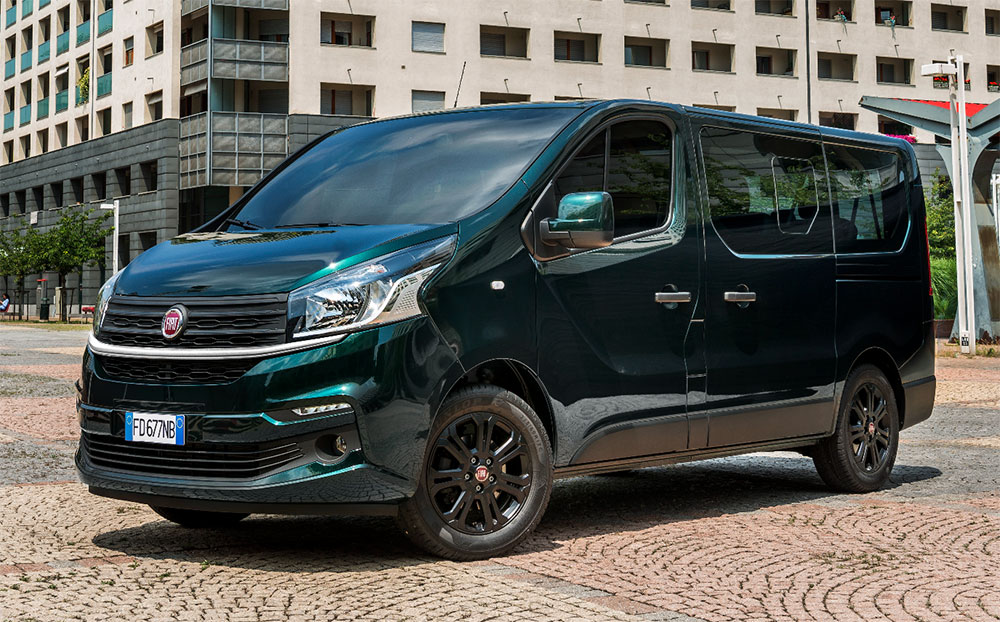 The Italian manufacturer has ended its tie-up with PSA and instead thrown its lot in with Renault for the new Talento medium van, a reworked Renault Trafic/Vauxhall Vivaro.
Equally at home in the city as it is criss-crossing the country on the open road, the all-new Fiat Professional Talento will be the perfect van for many businesses who demand the best of all worlds – compact exterior dimensions with impressive interior volume of up to 8.6cu m and a payload of up to 1,249kg; ample load-pulling performance combined with outstanding fuel efficiency (47.9mpg / 5.9L/100km on the official combined cycle) and packed with features designed to improve the comfort, safety and productivity of the most precious cargo of all – the occupants.
From a design standpoint, the new Talento is compact and well-proportioned: the forward-stretching windscreen connects elegantly to the short bonnet and the overall effect is one of an imposing and dynamic front end.
The squared-off rear end allows for ample inner space and a high load capacity while giving the Talento a broad stance that exudes stability and strength. As a whole, the design is upright with bold, clear-cut lines in tune with the new family feeling of the Fiat Professional range.
There are nine body styles to choose from – the standard- and high-roof vans in short- and long-wheelbase versions, short- and long-wheelbase people carriers and crew vans and a long-wheel base platform cab. Innovative features include the "CargoPlus" storage area under the passenger seats which allows professionals to carry objects up to 3.75m in length (4.15 for LWB versions) by sliding them into a special bulkhead opening. Rear doors can open up to a wide angle of 255° allowing easy access and usage of the loading bay while the sliding side door has an aperture of 1,030 mm and a load edge just 100mm above the ground.
The load volume equals 5.2cu m in short wheelbase models, 6cu m in long wheelbase versions and a generous 8.6cu m in the long wheelbase high-roof derivative.
This means that the Talento, even in the short wheelbase trim level, is capable of carrying three Euro pallets and, depending on the version, a payload of up to 1,249 kg with a GVW of up to 3,060kg.
The Talento is equipped with 1.6-litre turbo and twin-turbo diesel engines, all equipped with a six-speed manual gearbox as standard, employing Selective Catalytic Reduction (SCR) technology, a system which reduces nitrogen oxide emissions by injecting a solution of non-toxic, non-flammable AdBlue into the exhaust gas.
The entry-level engine is the 95bhp 1.6-litre turbodiesel which is ideally suited to city driving thanks to its high torque output of 260Nm and its excellent official combined cycle fuel efficiency figure of 43.5mpg and low CO2 emissions of just 170g/km.
In EcoJet specification with Start&Stop, this engine can return an outstanding 46.3mpg on the official combined cycle and CO2 emissions are reduced to 160g/km.
The 1.6-litre MultiJet 120bhp offers a mix of performance, value-for-money and efficiency, thanks to its 300Nm of torque, official combined cycle fuel efficiency figure of 43.5 mpg and emissions of 170g/km.
The 1.6-litre Twin Turbo Ecojet diesel engines employ sophisticated turbo-charging technology to boost both performance and efficiency, resulting in outputs of 125bhp and 320Nm of torque and 145bhp and 340Nm for the top engine version.
The first turbo provides high torque at low speed to ensure excellent engine responsiveness at low-to-medium revs, whereas the second turbo is activated at higher engine speeds to maintain linear performance across the rev range.
As a result, there is no efficiency compromises despite the high power and torque outputs – indeed, the 125hp version is actually the most efficient in the range returning 47.9 mpg on the official fuel efficiency combined cycle with emissions of just 155g/km, while the high-performance 145bhp engine matches the economy and emissions outputs of the EcoJet 95hp engine: 46.3mpg and 160g/km.
Inside, the Talento has been designed to be easy to use for long periods of time, with ergonomically shaped and comfortable seats, a perfectly positioned steering wheel and controls which make every day driving more relaxing and safe.
Examples of this attention to detail include the 90 litres of in-cabin storage space in a variety of shapes and sizes (including compartments hidden under the seat base and behind the seat back of the passenger seats), an additional blind spot-mitigating ViewPlus interior mirror, the innovative fold-down central seat with detachable clipboard holder and the available smartphone/tablet holder.
In terms of safety, all versions are fitted with LED daytime running lights, ABS with EBD (electronic brake distribution) and EBA (emergency brake assistance) in addition to a sophisticated ESC system with Hill Holder and Traction+ as standard.
Available safety features include side airbags and window-bags a Trailer Stability Assist (TSA) system which guarantees total stability when towing by automatically modulating engine power and braking force applied to each wheel to stabilise both the vehicle and a wayward trailer.
A front parking assist system and a reversing camera (with a display in the rear-view mirror) are also available.
Standard equipment on the entry level includes remote central locking, electric front windows (one-touch lowering on the driver's side), electrically operated and heated door mirrors, a full bulkhead, a height adjustable driver's seat with lumbar support and an arm rest, dual passenger seat, a powerful audio system with Bluetooth, DAB, USB, Aux-in, a full-size spare wheel and steering-wheel remote controls.
The Talento is now on sale with prices, ex-VAT and OTR charges, starting at £19,795 for the 1.6-litre MultiJet 95hp SWB standard roof van. The 1.6-litre MultiJet 120hp SWB is priced at £20,195 while the twin-turbo 1.6-litre EcoJet 125hp S&S is priced at £20,645. The range topping twin-turbo 1.6-litre EcoJet 145hp S&S is priced from £21,245.
The long-wheelbase Talento is priced from £21,395 (1.6 MultiJet 120hp), the crew van starts at £21,145 (1.6 MultiJet 95hp) and the platform cab is available from £21,545 (1.6 EcoJet 125hp S&S).