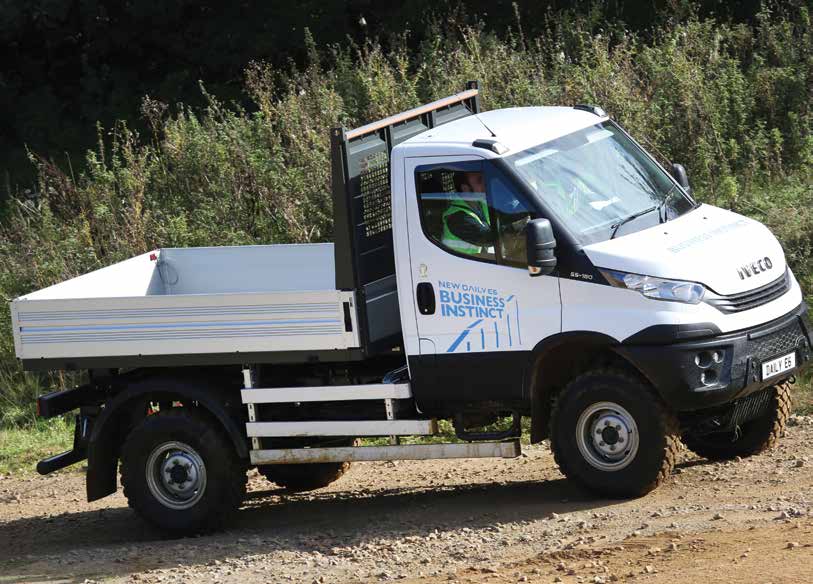 Iveco is renowned as a heavy truck manufacturer, with its best-selling Cargo (Iveco Ford Cargo, then subsequently Eurocargo) catering for the lighter end of the truck market, and Daily covering the panel van sector.
A conscious decision by the Italian truck manufacturer's boffins saw them enter a wider variety of markets during the late 1990s-early 2000s. They said then they were going to begin targeting niche markets – those which had a relatively small customer base but which Iveco saw as nevertheless important revenue streams which they could tap into.
One of those niche markets was what could best be described as the medium-weight off-road sector which traditionally services utility and forestry companies.
Operators in these fields need a versatile off-roader which can also be driven on the road at a decent enough speed which will ensure it doesn't become a rolling road block and an obstacle to other road users.
The Iveco Daily 4×4 is the result of a development process by the Italian truck manufacturer to produce just such a vehicle. Obviously the direct competitor to the Daily 4×4 is Mercedes-Benz's Unimog.
The Iveco Daily as tested here is the 4×4 55S17DW version with the Euro 6 engine. Equipped with the Iveco Daily 4×4 standard cab (a crew cab is available), it has comfy seats for both the driver and passenger.
Engine is Iveco's in-line fourcylinder, four valves-per-cylinder 3.0-litre 170bhp diesel with direct injection fuel system, turbo intercooler and variable turbine.
Gearbox is the six-speed synchromesh with overdrive 2840.6OD with Iveco transfer box and electrohydraulic differential lock. First gear ratio is stated as 5.373:1, while sixth gear ratio is stated as 0.791:1.
Underneath gubbins
The front drive axle is a rigid, single reduction with 1:4.875 ratio (standard diff lock), the rear drive axle is a rigid, single reduction 1:4.875 ratio (standard diff lock). Front suspension consists of parabolic, three-leaf, while the rear suspension is four-leaf parabolic. Stabiliser bar and hydraulic telescopic reinforced shock absorbers are fitted front and rear. What all this adds up to is a package perfectly suited to on-off-road operations
The Daily 4×4 is designed as a high-performance go anywhere vehicle which can carry payload to areas which are inaccessible to most other commercial vehicles. Daily 4×4 has a tough, open oblong chassis with closing plate longitudinal sidemembers and tubular cross-members. The pressed steel unitary cab is mounted on rubber bushes. The truck is subject to an anti-corrosion process which includes full cataphoretic dipping, it is fully undersealed and there are galvanised box sections and zinc-plated panels in all vulnerable areas. So it isn't going to rust out any time soon!
Once behind the wheel, accessing the cab is via a rung-type step, which is useful for scraping the muck from muddy boots before driving. The Daily 4×4 has 30 cm ground clearance, so the high-set driving position offers excellent visibility. A 50-degree approach angle and 30-degree exit angle means the truck can tackle steep ascents and descents. A 3,500 cm wheelbase increases its off-road capability and reduces likelihood of it becoming stranded.
The cab is spacious enough (drivers won't be in it long, so masses of storage space isn't high on the priorities list) and the dash layout is logical and driver-friendly. Dials and gauges are easy to read and switches nice and chunky and easy to use without diverting the driver's attention. The main gearstick protrudes from the dash and has a short throw, making it easy for the driver to slip through the gears. The six-speed gearbox has overdrive in sixth, and a central transfer box has two reduction stages that give a total of 24 forward speeds – a split of 12 for on-road (6×2) and what 'trail use' (higher speed terrain, but not Tarmac) and another 12 (6×2) for off-road use. It also has four reverse gears. Gear levers for these are to the left and next to the driver's seat. The mirrors give a good account of what is behind and/or alongside you, and large areas of glass offer good all-round visibility.
Millbrook testing ground in Bedfordshire was the setting for a day's testing of the truck. The threelitre 170 bhp Euro 6 engine powers the Daily across and through anything and everything you care to throw at it.
Stiff suspension and a taut chassis mean no roll or wallowing on corners, the steering is precise and the brakes are superb, with great feel and response, even when tackling tough off-road conditions.
The 12 speeds proved more than adequate for trails we had to follow to get us out into the wilds. Then, in off-road mode we tackled the worst the course could offer. A lake was traversed, the Daily having a deep wading capability.
We tackled muddy hills with slippery approach and departure tracks – the manual transmission meaning if you have to snatch a quick gear change, you can – and the truck never faltered.
The military uses parts of the testing ground to trial vehicles and equipment and some areas where we chose to go had obviously been recently visited by wheeled and tracked vehicles and had suffered considerable 'grooving as a consequence.
But, with the 4×4 Daily either straddling the deep tramlines or with one side dropped into them, it just kept on going.
Toughest test
One of the toughest tests was going through a 'dunk' pool, a sort of vehicle bath, with extremely steep approach and departure angles and a deep pool in the middle. The front of the Daily 4×4 nosedived into the water levelling out and after a short plod through the water, a stab on the accelerator brought the revs right up and we exited the pool with water gushing off the chassis.
The Daily 4×4 proved itself a hugely competent off-roader. It has strong climbing ability, wide approach and departure angles, in-cab comfort is excellent, it boasts 24 gears with three differential locks, so tackling any hill won't present any problems.
When you are working in tough off-road environments, the last thing a driver needs is to have to worry about whether his vehicle will get him to his destination safely and on time. If he is driving an Iveco Daily 4×4, he can rest assured he'll get there!