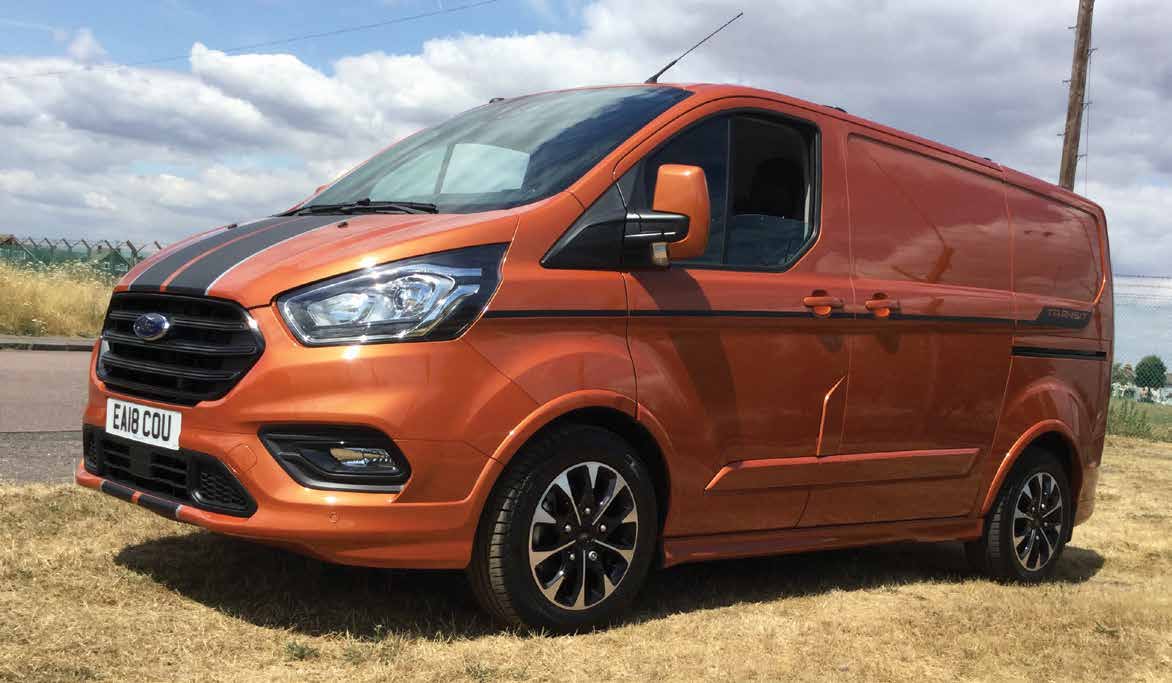 If you are looking to impress your clients, there's nothing to beat this bobby dazzler. Trevor Gehlcken reports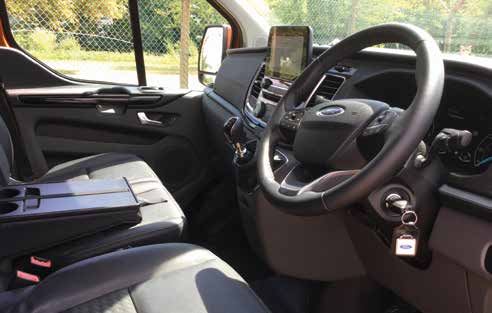 Look down any street in the UK and chances are you'll see a Ford Transit Custom parked somewhere. This van has been a phenomenal success for Ford since its launch in 2012 and has helped keep the blue oval still sailing well ahead of an increasingly impressive opposition.
At its launch, Ford wisely split the Transit brand into four – Transit Courier (city van), Transit Connect (small van), Transit Custom (medium panel van) and Transit (large panel van) – so that just about any trader in the country can now buy a van with that tried and trusted Transit moniker on it. But it is the Custom that has really grabbed the attention of Britain's traders, with its dashing good looks, excellent drivability, rock-solid reliability and of course a dealer back-up network that covers the whole country. In fact, it's now Ford's best selling van.
New Ford Transit Custom Sport 310s
The Transit Custom has featured in the winner's list of every Trade Van Driver Awards since its launch and this year it was voted Medium Panel Van of the Year.
It's amazing how time flies because it doesn't seem more than a year or two ago that I was eulogising about the original model at launch – but this year the Custom has been upgraded with a second edition, featuring a fresh interior and lots of gubbins under the bonnet that we can't see but which will make the van even more cost-efficient. Technology is advancing at such a speed now that to stand still effectively means going backwards.
So we had a chat with our friends in the Ford press office and whistled up a new model for appraisal. The one chosen was the Sport variety – and we didn't pick that one just so that we could swan about looking smart – honest!
Smart business wins bigger profits
The fact is that more and more small traders are realising that if they turn up at a customer's house in a nice smart van, that customer is much more likely to be impressed than if they turn up in a rusty old LDV. Plus of course you'll be as happy as a doubly-endowed canine driving this van as it drives as well as it looks.
And there's another reason why choosing an upmarket variant might be a good idea. More and more second buyers are demanding little luxuries like air-con, alloy wheels and built-in sat-nav units and they are prepared to pay for them when your van gets chopped in for a new model.
Of course the ultimate choice you make will probably be down to how well you firm is doing at present. The ex-VAT price of this model is £29,700 whereas you can get a base variant for as little as £20,395 ex-VAT – but be warned, it won't have half as much kit on it and it won't be as much fun to own and drive. Our advice is to go for the best model you can afford.
So what exactly do we get for that upfront price?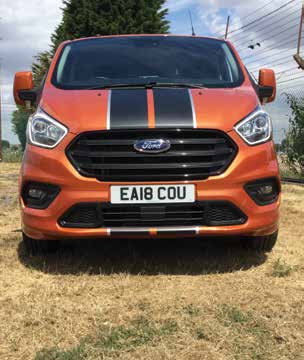 Well, as can be seen from the pictures, this van is an absolute stunner, with gaudy orange metallic paintwork, flashes that we used to refer to in the old days as "go faster stripes", snazzy alloy wheels and sporty Transit nomenclature dotted here and there. It's not exactly the kind of van you'd expect your local plumber to turn up in, but if your business requires bling, pizzazz and general knockout qualities then vans don't come any more dazzling than this.
The Transit hadn't been parked on my driveway for more than an hour or two before passing neighbours were stopping to look and stare – and I even caught one guy taking a picture. A couple of days later an internet delivery man in a beat-up old LDV Maxus asked me if he could buy one like that off the shelf as he thought it was a customised model. I felt quite sorry for him as he probably worked like a slave for next to nothing and would never earn enough to own a van like this, while I was getting to use this little bobby dazzler for a week in return for sitting at my desk for a few hours and penning this piece. Lucky me, eh?
This model features a staggering list of standard spec – so much so that it would just about fill these pages if I listed them all.
However stand-out items include halogen headlights, electric windows, heated seats, leather trim, airconditioning, front and rear distance sensors, cruise control, lane-keeping alert, rearview camera and trailer hitch assist, Quickclear windscreen, roll stability control and a tyre pressure monitoring system. As extras we also get orange glow paint, a special ICE pack with 8in screen, emergency assistance and navigation and an LED lighting system in the cargo area. Phew!
Under the bonnet goes Ford's tried-and-trusted 2.0-litre common rail diesel powerplant with a mighty 170bhp and 405Nm of torque on tap, while combined fuel economy is slated at 44.1mpg. Payload is 1,051kg and cargo space measures 6.0 cubic metres.
Our impressions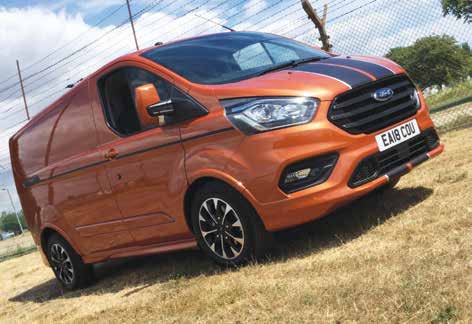 We hardly need to say any more about the Transit Custom's exterior – it's typical of Ford's ability to pull off something amazing and we love it.
Climbing aboard, the cab is as smart as the exterior, with a pleasant mix of black and grey plastics and a set of leather seats and a leather steering wheel.
The back of the middle passenger seat pulls down to reveal a handy desk with a pen slot and two coffee cup holders, while there are another coupe of drinks spaces on the dash and a cola bin on either side down near the knees.
In addition to the usual cigar lighter, there's a 12-volt take-off and a USB port on top of the dash so if you need to plug in lots of techy items like iPhones and your own sat-nav unit, there's plenty of holes to plug them into.
Then we get a few extras you don't usual see in a van, such as a sunglasses holder in the roof and vanity mirrors under both sun visors.
The large central screen holds the ICE pack which on the face of it seems to do just about everything but cook me a cheeseburger and fries. It's a brilliant system and younger drivers will revel in it, but as a 65-year-old I no longer feel the need to be connected to the rest of the world every second of the day so I must admit I didn't make full use of it.
the cab is as smart as the exterior, with a pleasant mix of black and grey plastics and a set of leather seats and a leather steering wheel
In the business end, the van features rather unusually a tailgate rather than the normal barn doors and Ford added a half load of cargo so we could assess the van's capabilities in real-world terms. Mind you with 170bhp on tap, it's never going to be short of oomph.
The LED lighting system is a boon too and well worth paying extra for. Usual lighting in the back of vans is little short of pathetic, as anyone who has tried loading up at night will know. With these lights, it's all dazzling and bright in the dark, allowing the driver to load up with no fears of a trip or slip.
The tailgate is handy if you want to stand under it in the rain, but on a couple of occasions with tailgates I have nearly taken my chin off when lifting them so personally I prefer the traditional barn doors.
On the road
Underway, this van is a sheer delight to drive. The driver's seat is sporty and figure hugging, gears snick into place smoothly, corners are taken with the utmost aplomb and as stated earlier, this van is never going to be lacking in speed and stamina.
Meanwhile it's whisper quiet in the cab even at motorway speeds, and quite frankly after our week's test I really didn't want to give it back.