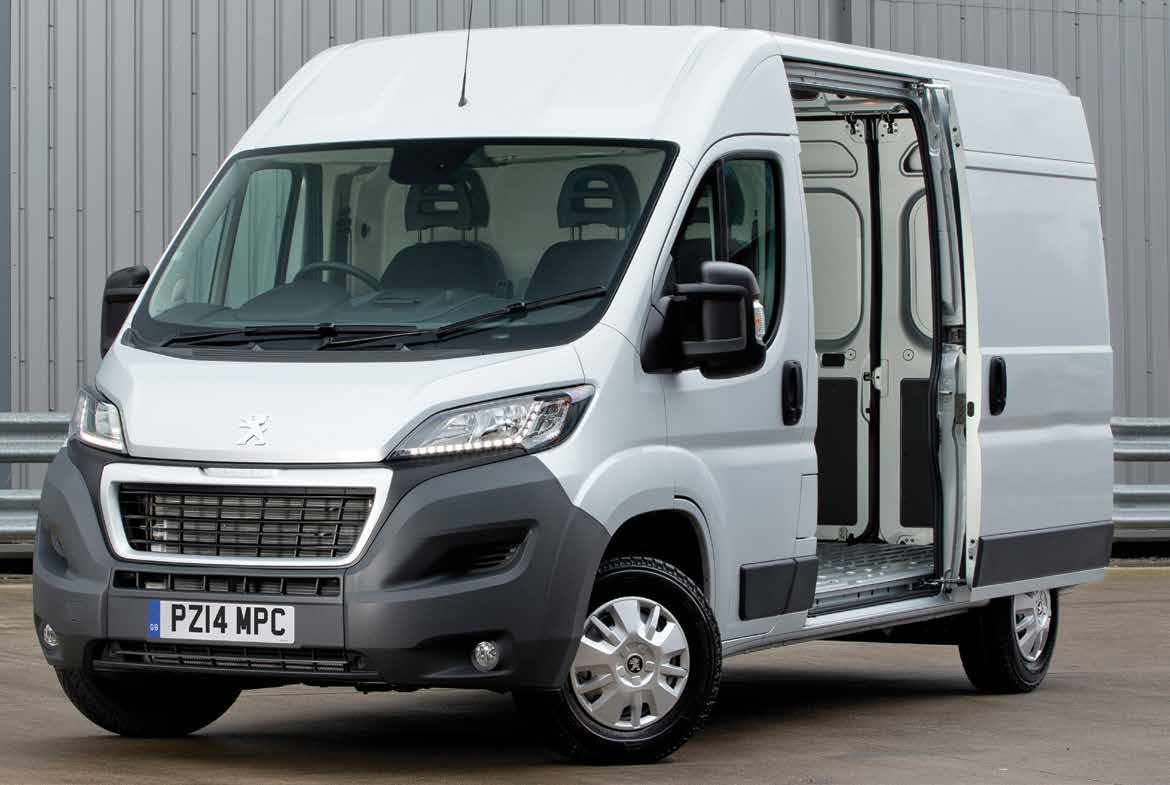 Peugeot Boxer L2H2 Professional Panel Van
Chic and stylish, yet practical and cost-effective, the big Pug proves an ideal choice for trade users. Trevor Gehlcken reports
If you think the Peugeot Boxer looks rather familiar, it's not surprising as this van is one of the most ubiquitous on the roads today. For in these times of shared platforms and manufacturer link-ups, the Boxer also makes an appearance as the Citroen Relay and the Fiat Ducato too.
The Boxer faces some tough opposition to be sure. Not only is it up against the Ford Transit, which of course needs no introduction, but it also locks horns with the mighty Mercedes-Benz Sprinter, not to mention the dazzling new Volkswagen Crafter, which was newly launched last year.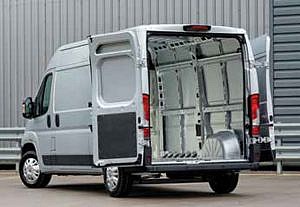 With such an array of contenders ranged against it, you would be forgiven for thinking the Boxer would be struggling – but you only have to look at the roads on any given day to see there are a lot of them about, all giving faithful service to Britain's trade van users. And don't forget too that just about every camper van on the road comes from the Boxer's twin brother the Ducato.
And the firm must be doing some cracking deals at present as one month last year, Peugeot leapfrogged over Volkswagen to take the coveted No2 slot in the UK van sales chart.
The Boxer has several things going for it. Prices are reasonable for starters, unlike with some of the German-built models, and all Boxers offer commanding fuel economy figures – an important point in these days of cash shortages. And the Boxer comes in a dazzling variety of different combinations too, so most trade users should find a variety to suit.
However, our test model is the basic panel van and for me personally it was like welcoming back an old friend because over the years, I have tested any number of Boxers, Relays and Ducatos and have been left mightily impressed with what's on offer every single time.
With the latest Euro 6 version of the Boxer van, the old 2.2-litre diesel has gone. Power now comes courtesy of a 2.0-litre BlueHDi diesel at 110bhp, 130bhp or 160bhp depending on which version you pick, with gross weights of 3,000kg, 3,300kg, 3,500kg or 4,005kg. Load cubes are at 8cu m, 10cu m, 11.5cu m, 13cu m, 15cu m or 17cu m, while payload capacities run from 1,140kg to 1,995kg.
Our test model is the middle-of-the-road L2H2, which weighs in at a basic price of £28,055 ex-VAT – not exactly bargain basement, but you do yet quite a lot of bangs for your bucks.
This van has a gross vehicle weight of 3.5-tonnes, the maximum you van have without having to add a tachograph, and a payload of 1,575kg, which should be ample for most of you traders out there, unless you happen to lug pig iron up and down the M6 on a regular basis. Meanwhile the rear end swallows a creditable 11.5 cubic metres of cargo.
Under the bonnet goes Peugeot's tried-and-tested 2.0-litre turbodiesel powerplant pumping out 130bhp and 350Nm of torque, which – along with a six-speed gearbox – is enough to row this van along nicely even with loads on board. The official fuel economy figure on the combined cycle is 45.6mpg, although as we all know this figure is unlikely to be replicated out on the open road as it is calibrated on a rolling road with the van empty. We reckon about 10% under that figure is a better one to aim for with a bit of careful right-footing.
Anything under that and you need to book yourself on to an eco-driving course!
This van has as standard a nice range of stuff such as reversing sensors, alarm, cruise control, manual air-conditioning and a touchscreen entertainment unit with sat-nav and Bluetooth connectivity.
But the lads at the Peugeot press office had loaded our test van down with goodies such as a rear parking camera and electric folding mirrors (£300), passenger airbag and lane departure warning (£460) and heated seats at a whopping £750 – are they kidding?!!!
Behind the wheel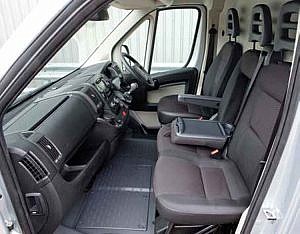 It's a big step up into the driver's seat, which means a commanding view of the road ahead, and once aboard, the cab reveals itself to be just as chic and stylish as the exterior.
The driver's seat on our test model adjusted in all directions and I was pleased to see the addition of a lumbar adjustment bar, which pushes the driver's back into an upright position and ensures no twinges over long journeys.
On the techy side, I was also pleased to see our van had in addition to a CD slot a sat-nav courtesy of TomTom, the best in the business in my book.
There are two coffee cup holders on the centre console and even a couple of coat hangers on the sides of the cab, along with a flip-up document holder on top of the dash. A right little office on the move.
The only thing I could find to moan about in the cab was the lack of an extra 12-volt take-off on top of the dash. There are so many gadgets to plug in nowadays that you really need more than one cigar lighter.
In the rear, our van had a total ply-lining job, essential if you want to keep the rear of the vehicle clean while carrying dirty loads. And there was also a non-slip load floor, which may not sound like a big a deal but anyone who has plonked a few items in the cargo area of a van without this little extra and driven around town without tying them in will testify to its usefulness.
On several occasions in the past I have lost boxes of eggs and suchlike as my groceries go sliding from one end of the van to the other.
And talking of securing cargo, there are no fewer than 14 lashing eyes on offer, some halfway up the sides where they are most useful.
Even at 6ft 3in I could stand upright in the rear end.
On the move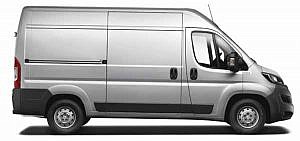 Out on the road, the Boxer proves a formidable piece of kit. Of course nowadays we get all sorts of safety devices as standard such as ABS brakes and ESP, which helps prevent sideways skids. There are other nice little safety touches too, such as a lane departure warning and rearview mirrors the size of dinner plates, which give an amazing view of what's behind. What with all the aforementioned safety gear, we reckon if you crash this van, you really shouldn't be on the road!
Meanwhile everything about the Boxer seems to be designed to create a thoroughly pleasant driving experience.
The clutch is nice and light, gear changes are silky smooth, there's no shortage of power, even with a load on board, and the van has an amazingly tight turning circle for its size.
TECH SPEC
Model:
Peugeot Boxer L2H2 Professional
Power (bhp/rpm):
130/3,750
Torque (Nm/rpm):
350/1,750
Fuel economy (combined cycle):
45.6
CO2 emissions (g/km):
163
Basic price (ex-VAT):
£28,055