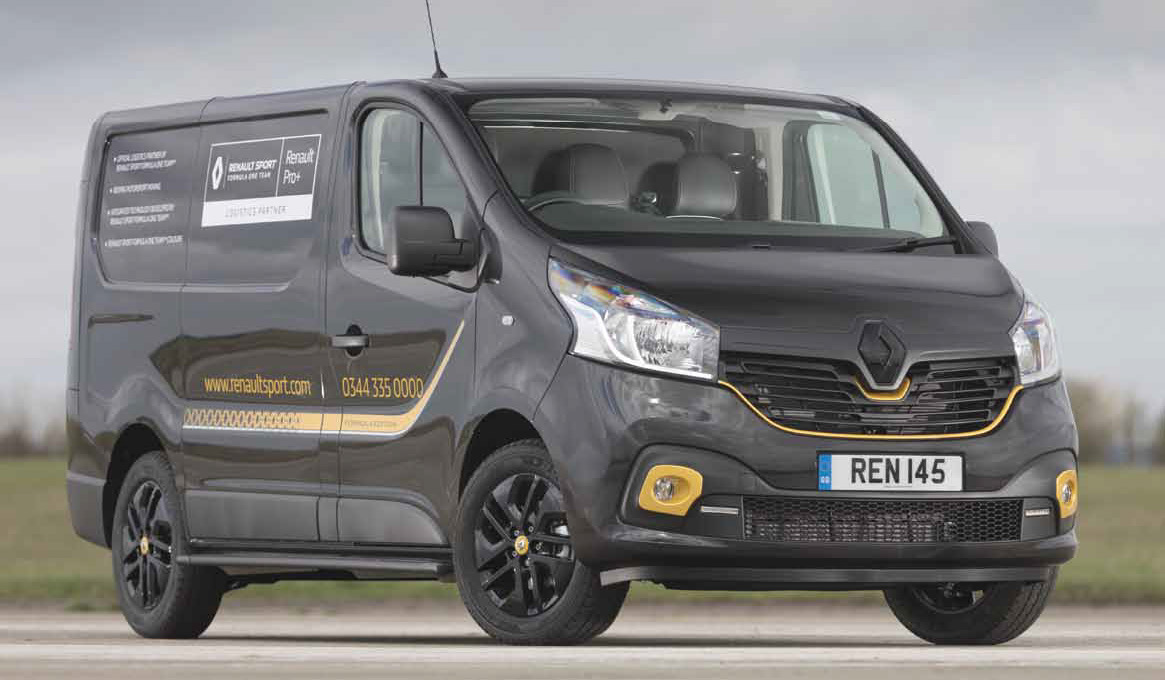 It's big, it's brash and it's beautiful. Renault's hot model takes the Trafic to a whole new level.
If your business is doing well and you want to splash the cash on something a bit special, how's this for a right bobby dazzler? It'll set you back a tad over £32,000 ex-VAT with all the bling added, but you'll be the talk of the town driving the Renault Trafic LL29 dCi 145 Formula Edition – and if you are like me you will have a grin on your face from ear to ear. This van is FUN!
When we are offered vehicles to test from the various manufacturers, we never quite know what actual model is going to turn up. In this case, we were expecting the usual run-of-the-mill fleety type Trafic and were stunned when this little humdinger pitched up.
A glance at the pictures shows this Trafic is about as far from ordinary as is possible to get – weighted down with stuff that most fleet drivers can only dream about.
Not that we are complaining of course
If we listed all the goodies on this van, it would fill half the magazine so we'll just mention a few of the most important ones for the time being. Outside, this van screams: "Look at me!" with gaudy yellow stripes down the sides, yellow foglight surrounds, a sparkly black paint job and black alloy wheels.
In the cab, we get special sporty seats with lumbar adjustment, a leather steering wheel, a fold-down little desk in the middle seat back, a 'Luxe' pack which adds all kinds of bling to the flashy cab and even a cradle for my mobile phone.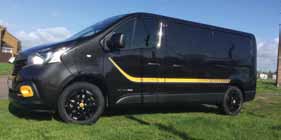 On the safety front, there are all the usual bits and pieces which are now a legal requirement plus reversing sensors, a reversing camera and cruise control.
On the 'options fitted' list, fleet managers of a sensitive nature should stop reading now! We have climate control at £1,200 (are they kidding?!), ply-lining at £630 (essential), passenger and curtain airbags at £660, rear parking camera at £250 (well worth it), and R-Link Multi-Media system at £775.
Under the bonnet goes a rather diminutive 1.6-litre turbodiesel engine which pumps out a meaty 145bhp, plenty of power to row this van along nicely yet not too 'loony tunes' for business use. The official combined fuel economy figure is a pleasing 46.3mpg, but this does take into account the fact that the van is fitted with a stop-start system.
No gripes at all
We usually find a few gripes and moans, but to be honest I am struggling to say anything negative about the Trafic. It just about ticks every box for me.
Inside the cab there's plenty to talk about. The seat – admittedly a special extra – is wonderfully comfortable and supportive, with a lumbar adjustment that helps an old groaner like me on long journeys.
When the Trafic was last upgraded a few years ago, Renault dropped the seat height by 40mm to give the van a more car-like feel to drive. I quite like the old sit-up-and-beg van driving style so I have the seat adjusted way up high with the back in an upright position. Suffice to say on a seven-hour trip from my home in Essex down to our holiday place in Devon recently, I did not suffer one back twinge.
The R-Link system in the centre console does just about everything but make me a cup of tea and there's even a clip to hold my mobile phone. In addition we get a USB port on top of the dash so I can plug my own TomTom unit in without having wires trailing all over the shop.
I know the van has its own sat-nav system included but all my details and destinations are on my personal unit so I still use that one.
Vanity or what?
The Mem Sahib was delighted to find a massive "vanity" mirror on the passenger side and was happily preening herself before I pointed out that it was in fact a special safety mirror which allows the driver to see right down the nearside of the vehicle. A neat and cost-effective little solution to a serious problem.
The Trafic was called into play in anger during its test period when number one daughter was moving house – and of course doting dad was called upon to help out. In long wheelbase format, this van offers six cubic metres of cargo space and you'd be amazed how much you can pack in. The full ply-lining too meant that heavier bits and pieces could be slid in easily without catching on the ribs of the floor.
Under way, this van is a dream to drive. Gears snick into place smoothly, corners are taken with the utmost aplomb and with 145bhp under the bonnet from the perky little 1.6-litre turbodiesel unit, this van is never lacking in oomph.
Tech Specs
Gross vehicle weight (kg): 2,960
Power (PS/rpm): 145/3,500
Torque (Nm/rpm): 340/1,500
Load volume (cu m): 6.0
Payload (kg): 1,280
Comb fuel economy (mpg): 46.3
CO2 emission (g/km): 160
Price as tested (ex-VAT): £32,210
Trevor Gehlcken