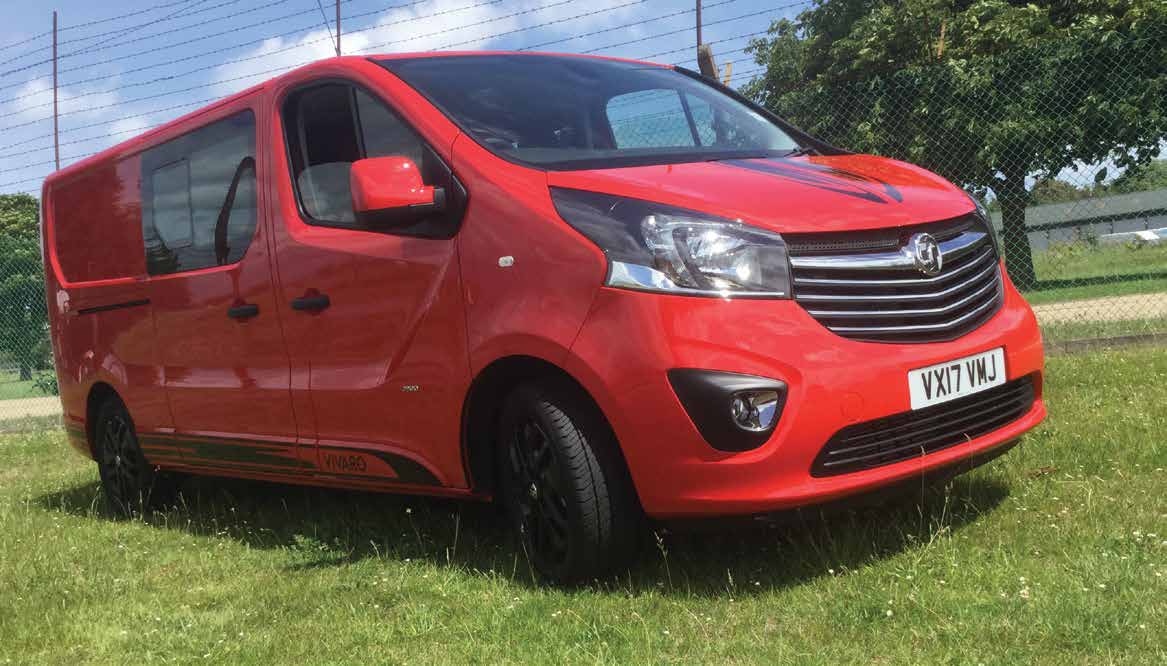 Vauxhall Vivaro Limited Edition L2H1 double-cab
It's super smart, seats six and drives like a dream. We want to keep it! Trevor Gehlcken gets behind the wheel
Your business is doing pretty well at present and you need a new van. You want a smart car too, one that will take the wife (or husband!) and kids to the seaside at the weekends.
You have a hobby that involves lugging around a fair amount of clobber and you want to cut a dash when out with other members of your club. Could one vehicle possibly fill all those requirement?
You bet. The Vauxhall Vivaro on test here is like no other Vivaro we've ever driven – in fact it's so good that I'm thinking of buying one myself. I wonder if the lads in
the press office would do a deal when they have finished with this van?
As can be seen from the pictures, it's a right bobby dazzler in vivid red paintwork, lots of fancy decals, black alloy wheel and smoked glass side screens, which altogether means this van oozes style.
And as many business owners are recognising nowadays, style means a lot. Turn up outside a client's house or office in this vehicle and it will speak volumes about the quality of your business, against your rival's van if it's a rusty old LDV Convoy.
The interior has seating for six people and plenty of legroom, while the cargo area offers four cubic metres of loadspace, making our test vehicle one hell of a useful piece of kit. The only downside is that VAT can't be reclaimed unless the van is used solely for business purposes, so the basic frontend price of £26,120 does seem rather steep. Mind you there's an awful lot on offer for the money. The van is powered by a 1.6-litre turbodiesel engine with a twin turbo, offering a feisty 145PS and 340Nm of torque. The official combined fuel economy figure is 44.8mpg and the van has an ECO button which turns down the torque slightly and gives the chance of up to 7% better fuel economy. We kept this button pressed in during our test week and didn't notice any shortage of power.
The standard features tally would fill this page alone if we listed them all, but the main ones – excluding the normal array of ABS and ESP which are now mandatory – include an immobiliser, Bluetooth connectivity and USB ports, five-spoke alloy wheels, body-coloured bumpers and side protection, air-conditioning, cruise control, foglights, metallic paint, rear parking sensors and an IntelliLink infotainment system with sat-nav.
Behind the Wheel
Since its original launch in 2001, we have driven literally hundreds of different Vivaros, and each time we've been impressed by this van's comfort, practicality and excellent road manners. In fact as a driving machine, the Vivaro is about as good as they come in the commercial vehicle sector.
The present Vivaro bears scant resemblance to its predecessors of course, but this particular variant shines out above all the others – easy to see why when you look at the pictures.
It's a real head turner as can be seen – and we were particularly pleased to see the addition of a small "Made In Britain" badge on the back. This was a proud boast when I was a younger man and it's something we don't see enough of in this world of increasing globalisation.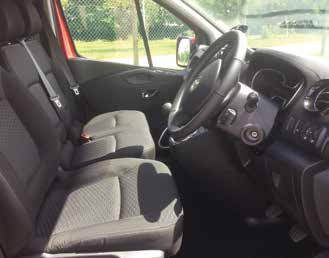 And it's not only the van itself that is made in Luton. A good percentage of the ancillary parts are British too, which all helps to oil the wheels of Great Britain plc.
Climbing aboard, the first thing you'll notice is how sporty and supportive those seats are. With room for six people, each seat is sculpted separately for extreme comfort over long journeys.
And there is plenty of legroom in the rear row too, so passengers wont be squashed up uncomfortably.
As this Vivaro is a long wheelbase version, the presence of the rear seats doesn't mean there's hardly any room for cargo at the back. There's still four cubic metres on offer and the van as a reasonable payload of 1,250kg.
With a full bulkhead behind them, the van is whisper quiet on the roads even at motorway speeds. Ad with super slick gear changes and pin sharp handling on offer, the Vivaro is a sheer joy to drive.
TECH SPEC
Gross vehicle weight (kg): 2,900
Power (PS/rpm): 145/3,500
Torque (Nm/rpm): 340/1,750
Load volume (cu m): 4.0
Payload (kg): 1,250
Comb fuel economy (mpg): 44.8
CO2 emission (g/km): 164
Basic price (ex-VAT): £26,120