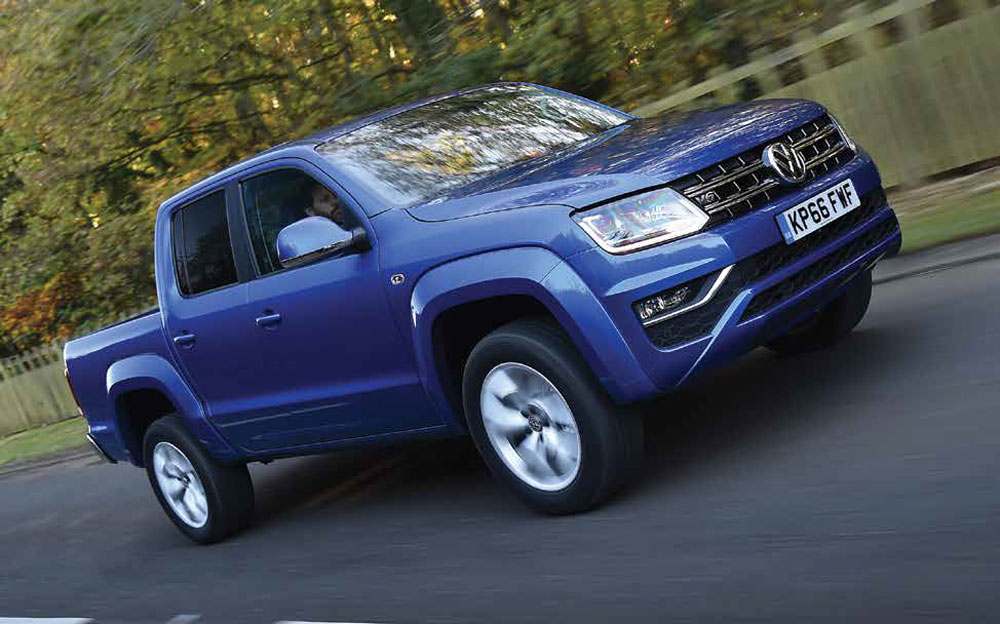 When the Volkswagen Amarok first burst on to the 4×4 truck scene back in 2011, it certainly moved the goalposts in terms of on-road smoothness and drivability, leaving the other contenders with a great deal of catching up to do.
Manufacturers such as Ford, Toyota, Mitsubishi and Nissan have been busy improving their off-roaders since then and most of these new models are almost car-like to drive on road, while still being capable of mud-plugging way past the capabilities of most drivers.
Volkswagen has replied with an upgraded Amarok which, while not exactly a quantum leap forward over the old model, does offer some nice touches to keep things fresh and exciting for potential buyers.
The biggest change is the addition of a stonking 3.0-litre turbodiesel powerplant
Big changes
We say exciting because the biggest change is the addition of a stonking 3.0-litre turbodiesel powerplant which offers a gut-wrenching 224 bhp and 405lb-ft of torque via an eight-speed auto box, making it the most powerful 4×4 on sale in the UK at present by far.
For firms wanting a workaday off-roader, this vehicle probably won't fit the bill at all – but it may well be of interest to company car drivers looking for a way to cut down on their benefit-in-kind tax bills or high-end firms that want to show off to their customers with some fancy wheels maybe.
For slightly more utilitarian work, the unit also comes with a power output of 204bhp and later in the year there will be a base 163bhp manual offering, although even this model comes at a hefty £26,225 ex-VAT.
Three levels
Three spec levels are available – Startline, Trendline and Highline, plus there will be a special limited run Aventura model offering various bits of extra spec.
While the new engine is the biggest change for new Amarok, there are several other upgrades and improvements too. Outside there is a new front bumper and radiator grille, new alloy wheels – a choice of 17in, 18in or 19in – while the cab features a new dashboard and a fresh touchscreen unit which incorporates all kinds of hi-tech fangle-danglery such as app connect which mirrors the driver's mobile phone.
On the safety front the new model has four airbags, Volkswagen's own automatic post collision braking system which reduces the severity of an accident, Park Pilot which automatically parallel parks the vehicle and a rear view camera.
The Amarok is certainly a head-turner and a vehicle which will give the fleet that uses it an upmarket appearance. We tested the 224bhp Aventura version (priced at £31,995 ex-VAT) both on smooth A roads, bumpy back lanes and on a pukka off-road course and the Amarok proves exactly what we expected from this premium manufacturer – i.e. superb build quality, every aspect of the vehicle weighted just right, carlike on-road drivability and the ability to laugh at even the toughest terrain.
The German manufacturers seem to have a knack of making vehicles in a way that the rest of the world can only aspire to.
The eight speed gearbox provided seamless changes while with such a lot of power on offer this truck was never going to struggle. Once on the off-road section we felt that we might succumb but our instructor warned us to keep the right foot down and in the end the sheer amount of torque on offer saw us on our way again.
The Amarok is loaded down to the gills with safety devices too numerous to mention so we really didn't have to do a lot to get the truck round what was a pretty tough course. It felt as though it would have TECH SPEC gone round on its own quite Gross vehicle weight (kg): happily had we Power (bhp/rpm): let it. Our only Torque (lb-ft/rpm): problem with Load volume (cu m): a vehicle like Payloads (kg): this is that is it Comb fuel economy (mpg): looks too good CO2 emission (g/km): to take into the Basic price (ex-VAT): mud.