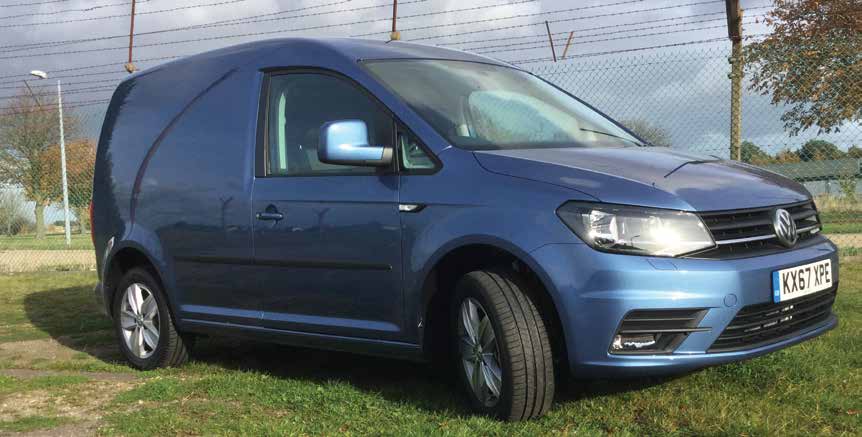 As diesel continues to fall out of favour, we take on a petrol-powered Caddy for a six-month appraisal.
Trevor Gehlcken reports
The pendulum of public opinion is well known for swinging back and forth on a regular basis. Take eggs for example. In my lifetime they have been deemed alternately good for you and bad for you several times over (remember the Edwina Currie egg scandal of 1988 anyone?)
But surely nowhere does that fickle pendulum swing more fiercely than in the field of vehicle emissions. At one time petrol was demonised against LPG, then we had a supposed saviour in diesel and now we're back to petrol as the favourite again, along with hybrids and electric vans. And that's not even mentioning the hydrogen fuel-cell. If the Government is to be believed, we'll all be driving electric vans by 2040, but in the ensuing 27 years, what is the environmentally-aware van operator supposed to do to satisfy both his or her finance bosses and the general public at the same time?
Electric vans at present are pretty much a no-no if they need to travel more than about 80 miles in a day, so surely petrol will be the fuel of choice for longer trips? If you think that, then try finding a petrol van to buy and you'll be pretty short of choices.
There are none at all on offer at 3.5 tonnes – and precious few under that. Which brings us rather nicely round to our latest long-term test van, the Volkswagen Caddy petrol.
Caught on the hop
All the van manufacturers have been rather caught on the hop by this new love affair with petrol and it's hats off to Volkswagen for trying to right this 'wrong' as soon as possible by offering not only the Caddy in petrol format but now the Transporter too.
Our test van is the top-spec Caddy Highline variant, sporting a 1.4-litre petrol powerplant offering a meaty 125PS and 220Nm of torque at between 1,500-3,500rpm,
which should give this van plenty of oomph on the road. Official fuel consumption figure on the combined cycle is 48.7mpg and basic price is £17,735 ex-VAT.
Ignoring the environmental credentials for a moment and looking purely in financial terms, it is reckoned that anything under about 20,000 miles and the petrol model wins out against the diesel equivalent, owing to its cheaper front-end price and the lower cost of petrol against diesel. After that, the diesel Caddy begins to win the day, increasingly so as the miles clock up.
So our long-termer is only going to be the choice for any user who undertakes low mileage round-town trips, unless the company that buys it counts environmental matters as more important than financial ones.
But what we don't know at present is what is going to happen to the residual values of diesel vans in the future, so in three years time, this model may well make a lot more at selling time than is envisaged at present, which of course will skew the wholelife cost equation in its favour. What a conundrum our readers face at present when choosing new vehicles!
Needless to say, we hold the Caddy in the highest esteem, having tested many of them over the years.
Unlike most other vehicle testers, I don't actually possess a car of my own (although I do confess to having a treasured Harley Davidson in the garage), so the Caddy has been my companion through the worst of the coming winter weather. It wasn't long after this van arrived at my house that we began holding it in the highest esteem possible.
Clad in shiny blue metallic paint and with just 142 miles on the clock, we couldn't imagine a more pleasant place for a driver to spend a working day.
Smooth operator
We quite often comment in our various road tests about how smooth the latest diesel engines are, but it's not until you actually swop for a petrol variant that you realise what the word 'smooth' really means.
This van is so whisper quiet that on a couple of occasions I have mistakenly thought that the engine had stalled.
And talk about standard specification! In my 25 years of testing commercial vehicles, things have moved on at a staggering rate and the Caddy boasts a spec sheet that would have been unheard of even for a Rolls-Royce all that time ago.
Firstly we have to take our hats off to Volkswagen for making its 'Front Assist With City Emergency Braking' system standard on all its vans. Basically what this system does is to slam the anchors on in the event of an anticipated crash up to 30mph. We've tested in on the track in the past and it really is a major step forward in the safety stakes.
But the Caddy doesn't rest there. It also boasts an automatic post-collision braking system, brake assist, anti-lock braking system (ABS), automatic hazard light activation under emergency braking, driver and passenger front and curtain airbags, electric seatbelt tensioners, electronic brakeforce distribution (EBD), electronic dfferential lock (EDL), electronic stabilisation programme (ESP) and engine drag torque control (MSR). Phew! Next time sometime tells me that Volkswagen vans are rather expensive to buy, I'll reel off that list to explain why.
In the cab, the standard goodies continue. Unlike most of the rivals, which charge anything up to a grand for a built-in satnav system, this Caddy has one as standard, along with a USB port, Bluetooth connectivity, MP3 compatible CD drive, climatic air-conditioning and cruise control.
And that's just picking out the best items. If we ran a total list of the standard spec, it would fill this page up and more. This Caddy was built especially for Trade Van Driver magazine so the lads and lasses in the VW PR office added a few extras for us as well. That snazzy paint job, together with extra quality black upholstery, adds £492, a winter pack, including headlight washers, heated washer jets, washer fluid level indicator, heated driver and passenger seats and electric auxiliary air heater, adds £582 and a rubber load compartment floor completes the extras.
Essential items
Unless you happen to be travelling in the wilds of Scotland in the snow, we probably wouldn't bother with the winter pack, but the load floor is an essential item to stop small bits of cargo slipping and sliding about when on the move. It will also protect the floor from scratches and scrapes, which will add to the van's value at selling time.
And talking of the cargo area, the full height bulkhead is a no-cost option and there are six load-lashing eyes to tie cargo down.
Of course on top of all this wonderful technology, the Caddy also offers that superior build quality that many other manufacturers strive to emulate but rarely do. It's typical of what we expect from makers of all German products and has helped Volkswagen to secure the treasured No 2 slot in the UK van sales chart which had traditionally belonged to Vauxhall.