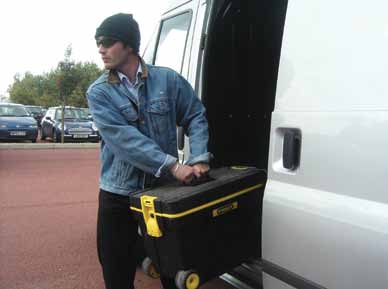 Van drivers increasingly hit, with central London worst off
Tool theft from vans has soared by 15% in the last three years, costing businesses over £46 million, according to research by Volkswagen Commercial Vehicles. Police forces across the UK have recorded over 64,000 cases of theft from commercial vehicles since April 2015, with a record 23,859 incidents in 2017/18.
Figures reveal the total cost of equipment stolen from vans – which includes power tools and heavy machinery – is more than £46 million over the last three years.
The worst area for tool theft is central London, with the Metropolitan Police recording over 8,000 cases a year worth an average of £11 million. Northumbria (4,000 reports a year) and West Yorkshire (1,000) were second and third. Humberside police recorded the biggest rise over the three years, with incidents up by over 1,000%. The cost of tool theft to businesses is more than just replacement equipment, with drivers often unable to work while vans are restocked and locks repaired. Downtime costs companies an estimated £550 a day per van.
The first step to protecting your vehicle is thinking about where you park it. Parking in a well-lit area or in a car park with CCTV will definitely help reduce unwanted attention. Where this cannot be achieved or if you have more than one vehicle, parking them defensively – in other words, where doors are blocked by another vehicle or object – can be a good deterrent.
For those van owners who wish to further increase the security of their vehicles there are various options available. Volkswagen, for example, offers a range of solutions to ensure your van remains protected. As part of the Business Pack available across its range of Caddy, Transporter and Crafter, an anti-theft alarm system can be specified.ing victims of tool theft.