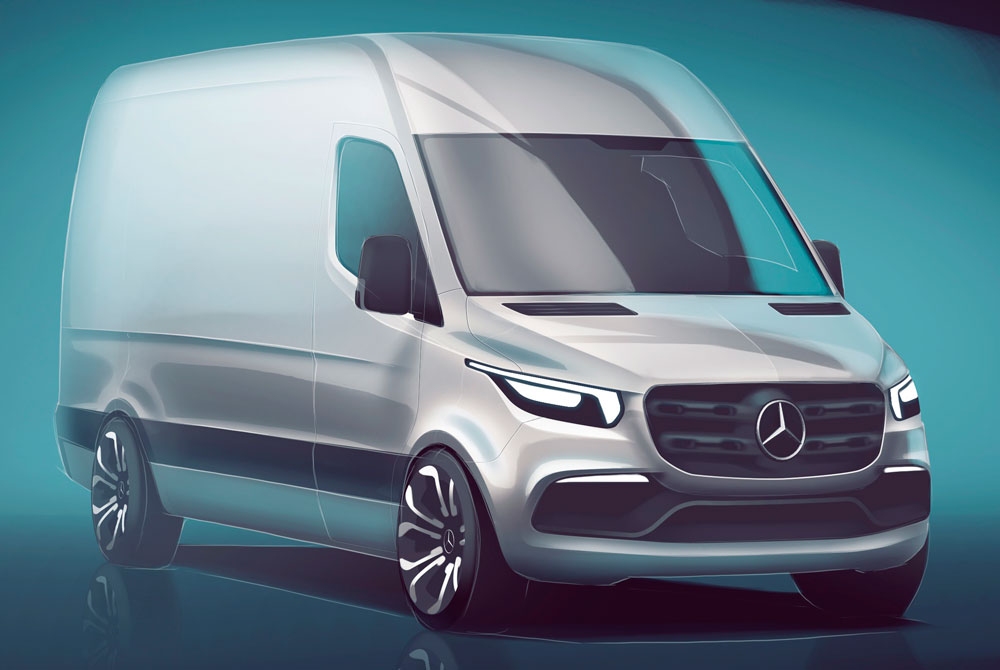 Mercedes-Benz New Sprinter Van unveiled
Mercedes-Benz Vans has unveiled the first details of the new Sprinter. The design sketch indicates that the most important market launch in the van sector in 2018 will also set new standards in terms of appearance.
With its new look, the Sprinter once again shifts the boundaries of its segment. The outstanding new features include the comprehensive introduction of driving assistance systems and connectivity services in combination with new telematics, which will bring a leap forward in efficiency for vehicle and fleet management.
Moreover, the new Sprinter can be even more precisely adapted to individual transport and sector requirements thanks to a considerably extended range of variants. With this combination, the new Sprinter is a unique proposition as an overall system solution in the van market. The market launch will commence in Europe in the first half of 2018, with the other markets to follow. Further details of the vehicle will be announced in the coming months.
Volker Mornhinweg, head of Mercedes-Benz Vans, said: "We want to do more than just build the best vehicles. We want to offer the most suitable mobility solution for every sector and for every transport assignment. And that is precisely our focus with the upcoming Sprinter generation as an overall system solution. It also goes without saying that the new edition of our iconic van possesses the classical attributes of reliability, safety and cost-effectiveness."
The van that founded a whole segment has been the flagship model of Mercedes-Benz Vans since the launch of the first Sprinter in 1995.
With a total of more than 3.3 million units delivered to over 130 countries, the Sprinter is one of the most successful commercial vehicles ever.