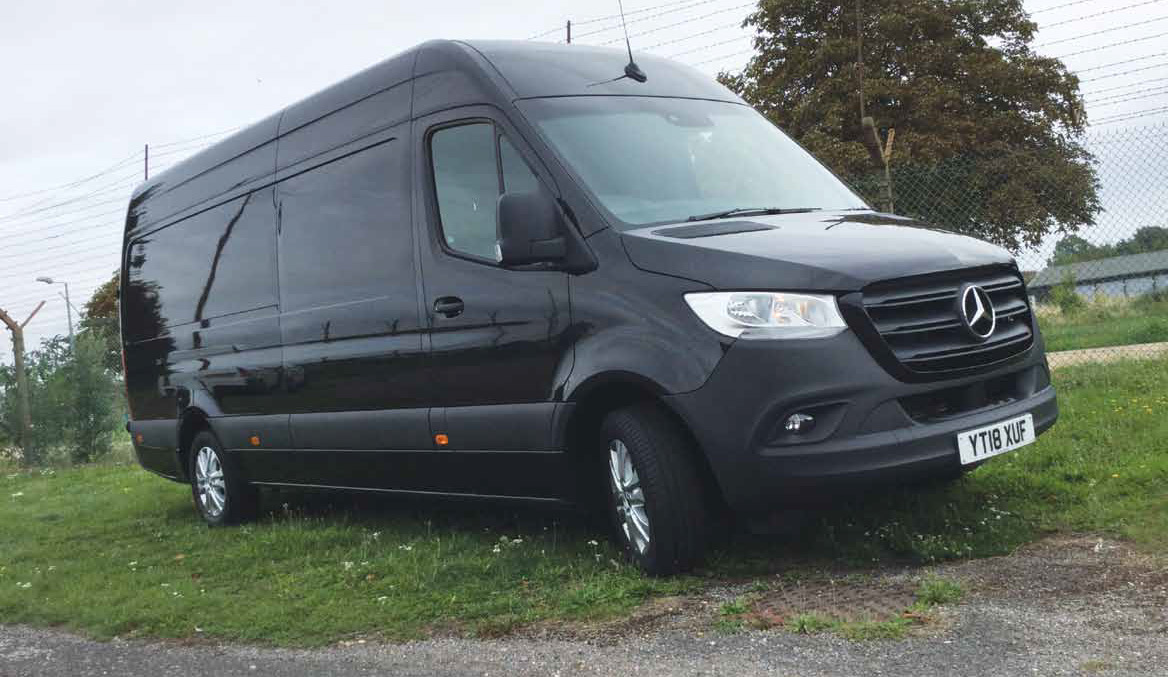 Can anyone catch the big Merc when it comes to heavy duty usage? Trevor Gehlcken reports
I've been a journalist for nigh on 50 years now and during that time I have always stuck by the principle that I NEVER take sides when writing articles.
Whatever the subject I'm writing about – whether it's the war in Syria or the price of cheese – I sit firmly on the fence and present all the facts as they come, for my readers to draw their own conclusions. That's what I was taught to do all those years ago at journalism college.
Therefore, I have a confession to make before starting this particular road test on the latest Mercedes-Benz Sprinter – I own a 57-plate Sprinter van conversion and I love it almost as much as my partner Linda. It's part of the family what with holidays, festivals and weekends away and has never failed to impress, either by its reliability or its ability blat down the motorway at 70mph all day long, fully-loaded and in the utmost quiet and comfort.
In-depth knowledge
So although I am far from unbiased and am unlikely to say anything bad about the Sprinter, my in-depth knowledge of the older model does at least give me an advantage over my journalistic rivals in that I am in a commanding position to compare the two.
The Sprinter – in long wheelbase, high roof format (just like that of my camper van) – arrived at my home in Essex on my birthday and I was kind of hoping in my dreams that the guys and gals at Mercedes-Benz HQ in Milton Keynes might let me keep it under the circs. But sadly, all too soon, my test week went by and the van was collected again.
OK so let's get down to brass tacks. Bias on my part or not, it's true to say the Sprinter has been a legend in the world of vans since its first appearance in 1995. The three-pointed star promises top quality and that's exactly what you get – although of course, as you would expect, it ain't exactly cheap against the opposition.
But whatever the rivals do to take the big Merc's crown away – models such as the new Volkswagen Crafter for example – the traders I talk to all want the Merc first – exactly as I did when I bought my camper van in fact. I looked at Fiat Ducatos and Ford Transits for sure, but in the end my money went firmly on that big Teutonic star.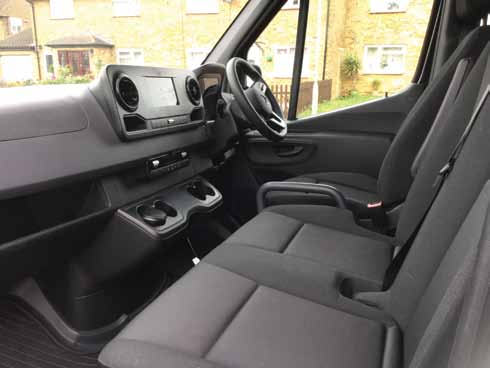 Similar packaging
The first thing to not about the latest Sprinter is that it doesn't look hugely different from the old one – which is a great thing for people who own the old model as it won't suddenly look dated. The Sprinter still looks as fresh as it did when first launched back in 2006, so why fix it when it ain't broke, as they say. No changes have been made to the engines either, other than the installation of a keyless push-button starting system.
Sprinter retains the big-hearted 190hp 3.0-litre diesel familiar from the old model and the 2.1-litre diesels at 114hp, 143hp or 163hp have been carried across too.
A key development, however, is the arrival of front-wheel-drive. Previous Sprinters were rear-wheel-drive or four-wheel-drive only and both configurations are still available, although the most powerful of the 2.1-litre diesels is not offered in front-wheel-drive variants.
Going the front-wheel-drive route gives you a loading height that is 80mm below that of rear-wheel-drive derivatives. Payload capacity is up by 50kg and vans – Sprinter is also sold as a chassis-cab – get 0.5cu m more cargo space.
Front-wheel-drive Sprinters gross at 3.0 to 4.1 tonnes, while their rear-wheel-drive stablemates gross at 3.0 to 5.5 tonnes. Maximum van load cube is 17cu m while maximum payload capacity is 3,150kg if you opt for the 5.5-tonner.
Safety devices include a reversing camera which shows what it sees on the rear-view mirror in the cab and a parking package which provides drivers with a bird's-eye view of what's happening all around the vehicle. Fitted too is Active Brake Assist, which brakes you if it looks as though you are going to collide with something.
Also listed is DISTRONIC, radar-based technology which ensures you keep a healthy distance from other vehicles ahead of you on the motorway once you've set your desired speed. Get too close and your speed will be reduced, and if necessary you will be braked to a standstill. Blind Spot Assist can be installed. It recognises traffic and pedestrians crossing behind Sprinter and can brake autonomously in an emergency.
Our test model came weighed down with a host of added goodies which would dazzle the average van buyer, including metallic paint, auto gearbox, air-con, active lane-keeping assist, foglamps and special driver's seat among many others. They are all great bits of kit to be sure, but together they add a whopping £6,880 to the price. Suffice to say great care must be taken at buying time to decide exactly which goodies you really need and which you can do without.
All aboard
It's not until you climb aboard that the real changes start becoming obvious. The dash, for example, is all new.
There's a boxy kind of affair in the middle of the dash that holds all the techy stuff and other switches and knobs. To be honest I prefer my old dash layout, but it's purely a matter of opinion. The driver's seat is to die for, oh so comfortable, but it does come as a special at £105 extra.
What I really had trouble with first was the fact that there's no gear lever and no handbrake lever either. The handbrake is coaxed on and off with a little switch on the right hand side of the dash, while gears are selected automatically by a stalk under the steering wheel.
The engine fires up with a push button on the dash too – all rather curious to old groaners like me til you get used to it. Meanwhile the screen in the centre console controls all the functions and seems to do everything but the weekly wash as far as I could see.
The old cigar lighter has been consigned to the great ashtray in the sky and there were no USP ports either to plug my personal satnav into, although Mercedes had added a wire coming out under the dashboard for this purpose. It shows how fast technology is moving at present – just when I thought I was bang up to date, I'm an old dinosaur again – hey ho! Another rather curious addition in my book are the six coffee cup/drink holders. With seating for just three, is there something I don't know about modern liquid consumption amongst van drivers?!
In the back there's a cavernous amount of space on offer and I would have to warn potential owners of the risk of overloading, This van must not weigh more than three and a half tonnes fully loaded – and that weight can be over-reached easily.
Our test van was fully ply-lined at a cost of £335 (essential for any heavy duty users) plus there was a useful racking system fitted to keep loads in place, although this turned out to be a £225 option.
On the road
Once the engine fires up, my old Sprinter really shows its age. Although it suits me fine, its performance pales into insignificance against this newcomer, which bounds along smoothly and quietly almost as if by magic. The seven gears change seamlessly and despite its size, the Sprinter glides round the bends as if they aren't there. I managed a 400-mile trip in one day during our test period and alighted at the end of it as if I'd just nipped round to the corner shop.
TECH SPEC
Model: Sprinter 316 L3H2 RWD
Power (bhp/rpm): 163/3,800
Torque (Nm/rpm): 360/1,400-2,400
Fuel economy (combined mpg): 36.2
CO2 emissions (g/km): 211
Price: £34,060