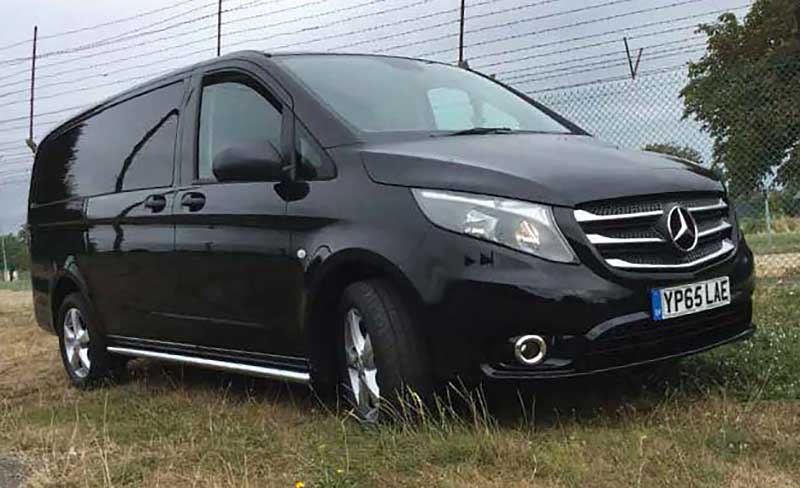 If you want a van that looks superb, doubles as a car and goes like the clappers, then you need look no further than the vehicle on test here.
Needless to say with a Mercedes-Benz product, this van oozes quality from every pore, after its major facelift at the back end of 2014. It isn't exactly bargain basement price at £27,980 ex-VAT but you do get an awful lot of bangs for your bucks.
Safety systems on board above the usual ABS brakes and Adaptive ESP include crosswind assist, attention assist, hill start assist, tyre pressure monitoring, headlight assist, rescue assist and adaptive brake lights.
In the cab, both front seats are the 'comfort' variety with armrests and snazzy cloth trim, while there's semi-automatic air-con and an infotainment system that does just about everything but make the tea!
Outside, our van boasted a dazzling black metallic paint job which is standard, along with colour coded bumpers, chrome sidebars, privacy glass and 17in alloy wheels.
Under the bonnet goes a 2.2-litre turbo diesel powerplant offering a meaty 163bhp and 280lb-ft of torque. Despite all that power, the Vito is still slated to return 46.3mpg on the combined cycle.
Smooth operator Out on the road, this van is smooth as silk, although the clutch – as with all Vitos – is unpleasantly stiff, which rather tends to spoil the driving experience in urban areas.
However, the Vito glides round corners as if they don't exist and it gives the driver a great deal of confidence knowing that all those system systems are sitting there waiting to wade in during any emergency.
Meanwhile in the rear, the second row of seats can be removed. But be warned – you need the strength of Samson to get them out and even more to out them back again. It's definitely a two-man job.
And with the seats removed, the Vito offers a mass of space – six cubic metres to be precise.